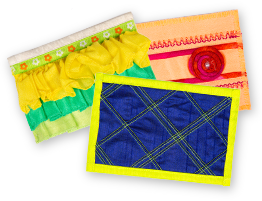 Foot Accessories
Everyone in this world knows the power of using the right accessories for any occasion and no one understands this more than Usha. So to ensure that each one using an Usha machine gets the best output, we offer a range of accessories that enhance the sewing experience as well as the finished product. These nifty accessories from Usha open up a world of creativity for you to revel in.The different foot accessories enable you to do away with time consuming harder-to-execute tasks like gathers and ruffles, beading, and adding sequins and ribbons. What more could you want? Imagine how much faster you can work and how easily you can take your sewing to a new level of creativity.Usha also offers a host of other accessories including sewing machine tables and power motors to make your sewing experience seamless and enjoyable.
*MRP Inclusive of all taxes
Design, feature and specifications mentioned on website are subject to change without notice.